On this Tuesday night (Sept. 7, 2010), the Solar Road Trip will stop in Boston.
Second Nature has teamed up with Unity College, 350.org, Students for a Just and Stable Future, and others to help promote this exciting trip.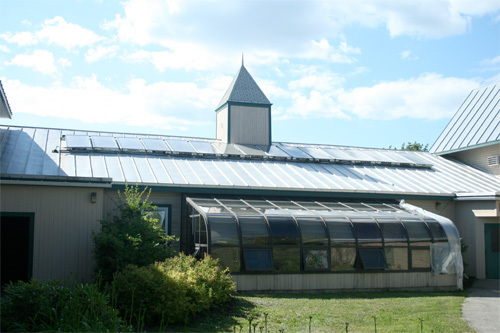 Carter solar panels on the cafeteria of Unity College
(image source: huff-po)

Author Bill McKibben and a team of students from Unity College in Maine travel to Washington D.C. to deliver one of the original Carter panels to President Obama, asking him to reinstall solar on the White House, and to follow this symbolic gesture with substantial legislative action.

Second Nature President Tony Cortese will speak, along with Bill McKibben and other leaders, about the importance of taking action on climate and energy. This should be a major press event, and a strong showing of supporters will go along way to raise the profile of these efforts – please join us on Tuesday night!

Here are the details of the event:

Date: Tuesday, September 7
Location: Old South Church, Copley Square, Boston
Schedule:


5:30pm - Bicycle pedal-powered climate rock band, Melodeego
6:00pm - Guest Speakers, including Bill McKibben (of http://www.350.org), Tony Cortese (of http://www.secondnature.org), representatives from Students for a Just and Stable Future and Interfaith Power and Light
7:00pm - Screening of "A Road Not Taken," new documentary that tells the story of the original Carter White House solar panel installation.
Please forward to anyone in the Boston area who might be interested.

And if you didn't catch Bill McKibben on Letterman Tuesday night, watch the clip here.
Stay going.